Installation d'équipements Laser Tag Installation for leisure center with the best laser tag system !
NEW LASER TAG GENESIS SYSTEM
The GENESIS system offers innovations and allows an unique game experience.
Le pistolet dispose d'un écran tactile robuste et d'une caméra à selfie pour identifier son adversaire.
Genesis equipment is designed to stand the test of time, with redesigned ergonomics.
Now, simply place the vest on the stand to start charging your Laser Genesis equipment.
WATCH THE LASER GAME VIDEO ON YOUTUBE
CHOOSE YOUR DELTRA STRIKE SYSTEM
Discover the two Laser Game game systems Genesis. Fec and Pro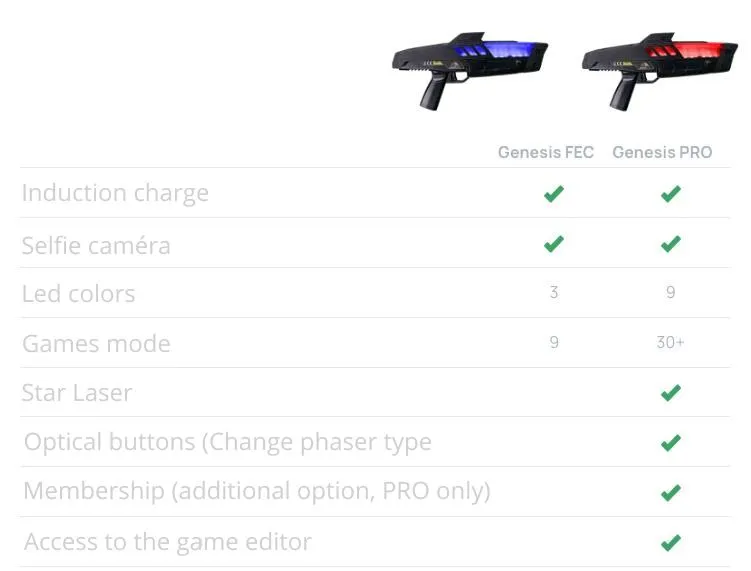 LASER GAME PLUSIEURS MODES DE JEU
With the video bases, add to your maze many game modes to diversify your games. Attract new customers with a new way to play, and keep the customers who are already fans of your Laser Game space !
Run behind enemy lines and retrieve the flag from the video base, return to your HQ to score.
Prenez possession du ballon au milieu du labyrinthe, et foncez en équipe jusqu'à la base ennemie pour marquer un point.
En pleine partie, une question personnalisée s'affiche sur l'écran, tirez sur la bonne réponse pour remporter un avantage !
Many other games are available with the video bases ...
Many centers are already using Delta Strike solutions, and the new Genesis Laser Game deployed by Delta Strike est aujourd'hui une référence de qualité et de fiabilité sur son marché.
Write-us or Contact-us on our Social Media